EDIT MAIN
Welcome to Henry P. Clough Elementary School - A message from the Principal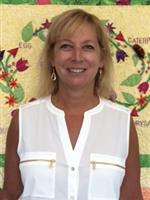 Mrs. Janice Gallagher, Principal
Henry P. Clough School
Thank you for visiting our website. It is a privilege to serve as principal of H.P. Clough. Our school has an outstanding reputation, and I am proud to be part of such a wonderful school. I look forward to working with parents and our community in our shared school goal: to help each child reach his/her potential.
We strive to provide the best educational experience possible. We have high expectations for all our students in order to ensure success. Our teachers will guide your student on a path that will give him/her the skills necessary a successful future.
Education and safety receive the highest priority in all that we do and in our school community. We work hard to implement best practices, integrating academic and social learning in every aspect of the school day. By teaching and reinforcing expectations, routines and our school rules, students can best focus on their most important job - learning.
H.P. Clough is filled with enthusiastic students willing to learn, supportive parents/guardians interested in their child's education, and a dedicated professional staff committed to providing a quality education. Clough community loves to learn. This passion for learning is not limited to just students. It includes faculty members and families. We believe in strong family partnerships, a safe setting for all to learn and succeed and a supportive environment for educators to further their professional development. Our classrooms and hallways are filled with excitement. Our teachers continually look for new and creative ways to engage our students and get them excited about learning.
At Clough, we foster a safe, caring and nurturing school culture while supporting the academic, social, and emotional development of each student. We encourage our students to practice good citizenship and demonstrate respect for others through our KCR school wide program, where Kind, Caring and Respect is part of our everyday life at school and beyond.
Our PTO raises funds and provides a variety of enriching activities and additional resources that benefit our students and builds our school community. We are grateful for this important group. Please consider being an active member of our PTO and support our school.
I firmly believe communication is vital. It is my goal to keep the lines of communication open with students, staff, parents and the community. This webpage is designed to further facilitate keeping school and home connected. Our communication is an essential component to ensure that your child's experience at H.P. Clough is successful. I hope you will refer back to this website often for important dates, upcoming events and Clough happenings.
H.P. Clough Elementary School is grateful to have the continuous support of parents, community members, and the school committee. The success of our students is a direct result of this strong partnership. We are thankful for the ongoing opportunity to work with both communities towards the common goal of each student reaching his or her highest potential. With this continued involvement and support, we will continue to enhance our reputation for excellence.
"One Team, One Goal, No Limits".
Sincerely,
Janice Gallagher
Principal