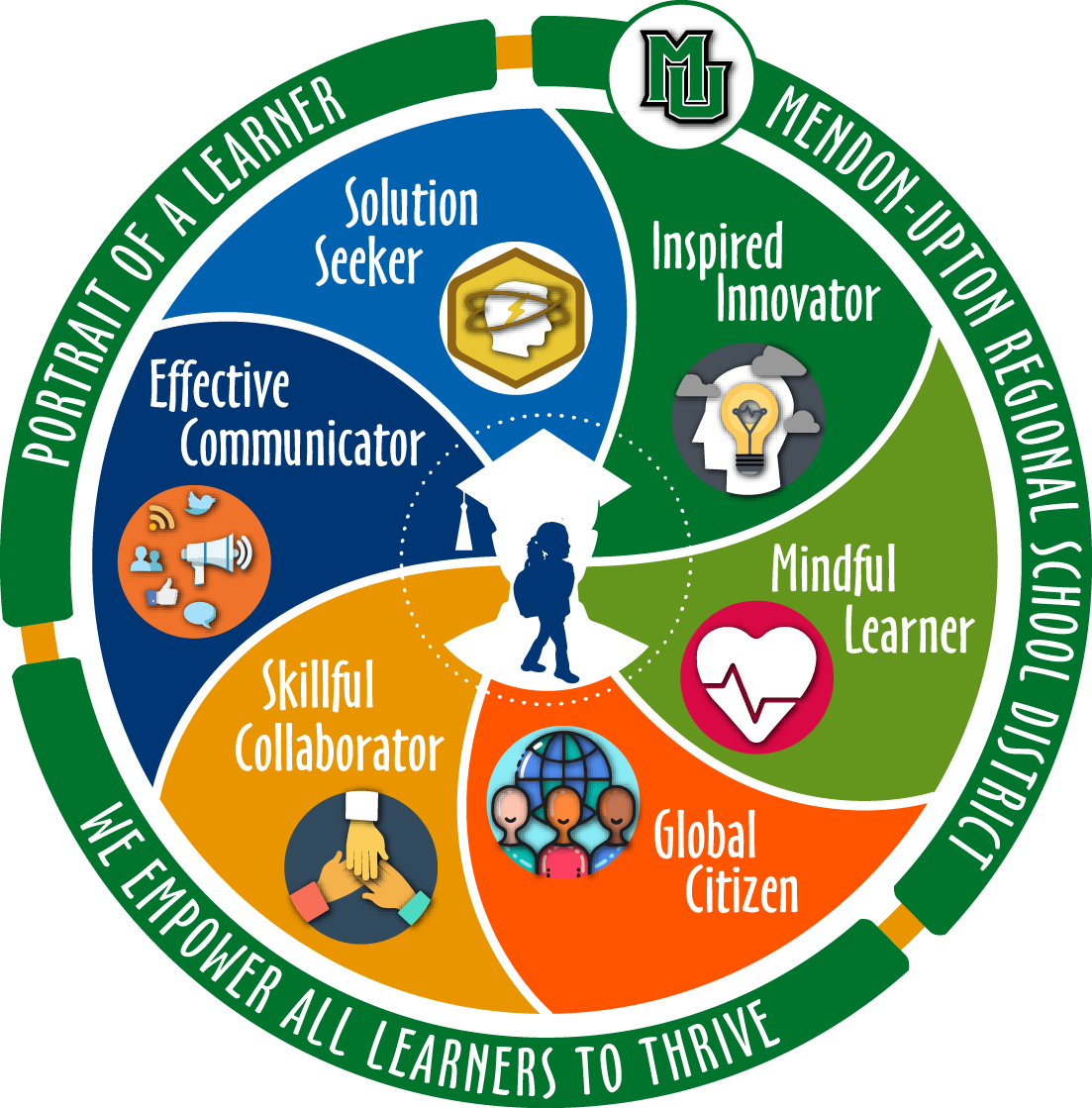 Like other forward-thinking public school districts across the United States, Mendon-Upton Regional School District (MURSD) has created a Portrait of a Learner profile to answer the question:
What are the skills necessary for success for all students in this rapidly changing, increasingly diverse, and interconnected world?

The Portrait of a Learner competencies ask MURSD students and staff members to look beyond the high-stakes testing environment and to develop skills and competencies needed to be successful in the world and in the workforce of the future. Alignment of this vision to resources, time, and professional practices will be necessary so all students may have opportunities to develop each aspect of the portrait to their fullest potential.
Being a learner in the modern world is exciting because students are presented with various opportunities to experience personally meaningful learning in a connected world. Modern learners have the chance to create and forge meaningful learning experiences and connect with the world around them.

We recognize that the emergence of technology provides boundless access to information and opportunities to create, design, and invent. Technology also connects learners on a local and global level, to foster communication, collaboration, and creativity. Students now, more than ever, are equipped with the tools to innovate, to reimagine their education, and to serve as pioneers in both existing and new fields.

Preparing students for an unpredictable future requires a variety of knowledge, skills, and dispositions.
As global citizens, students must be able to demonstrate an understanding of others' needs and understand the value of a diversity of experiences, cultures, and perspectives.

As solution seekers they need to be able to recognize obstacles, diagnose the issues that limit progress, apply strategies to address their concerns, and reflect on the effectiveness of their response.

As skillful collaborators, students to work effectively and respectfully with diverse teams in a variety of formats.

As inspired innovators, they need to be able to elaborate, refine, analyze, evaluate, and iterate their ideas in order to maximize their creative efforts.

As mindful learners, they need to be able to regulate their emotions, thoughts, and behaviors as they persist toward personal and learning goals.

As effective communicators, they must articulate and listen with attention to knowledge, values, attitudes, and intentions.

Although we recognize the changing realities of the modern world, there are current aspects of our professional work that remain important for the future of our district. We must continue to provide students with opportunities to be introduced to key content and knowledge needed to ignite their passions, broaden their understanding, and develop cultural literacy. We also recognize that we need to continue to prepare our students to achieve in traditional forms of assessment that are valued by colleges and employers.

​Because traditional achievement is only one measure of success, we must expand our definition to include moments of reflection, resilience, creativity, collaboration, experimentation, and inspiration.

As our world evolves, our professional practices must reflect and include opportunities to collaborate, reflect, innovate, and initiate. Students should be encouraged to seek novel approaches to learning. As educators, we must continually reflect, review, and revise our professional work to make sure our work supports our definition of learning, beliefs about learning, and the vision of our graduates.
District Portrait of a Learner Competencies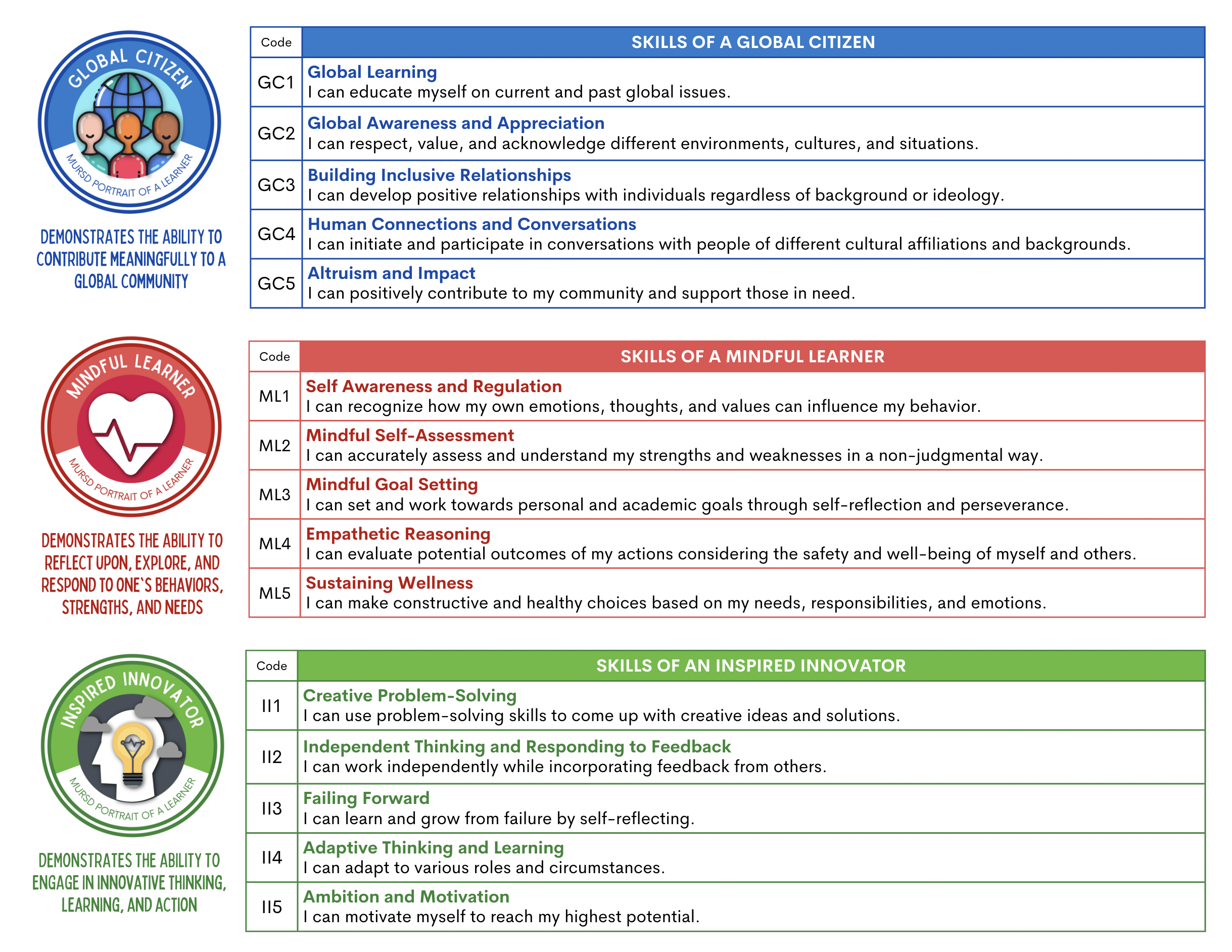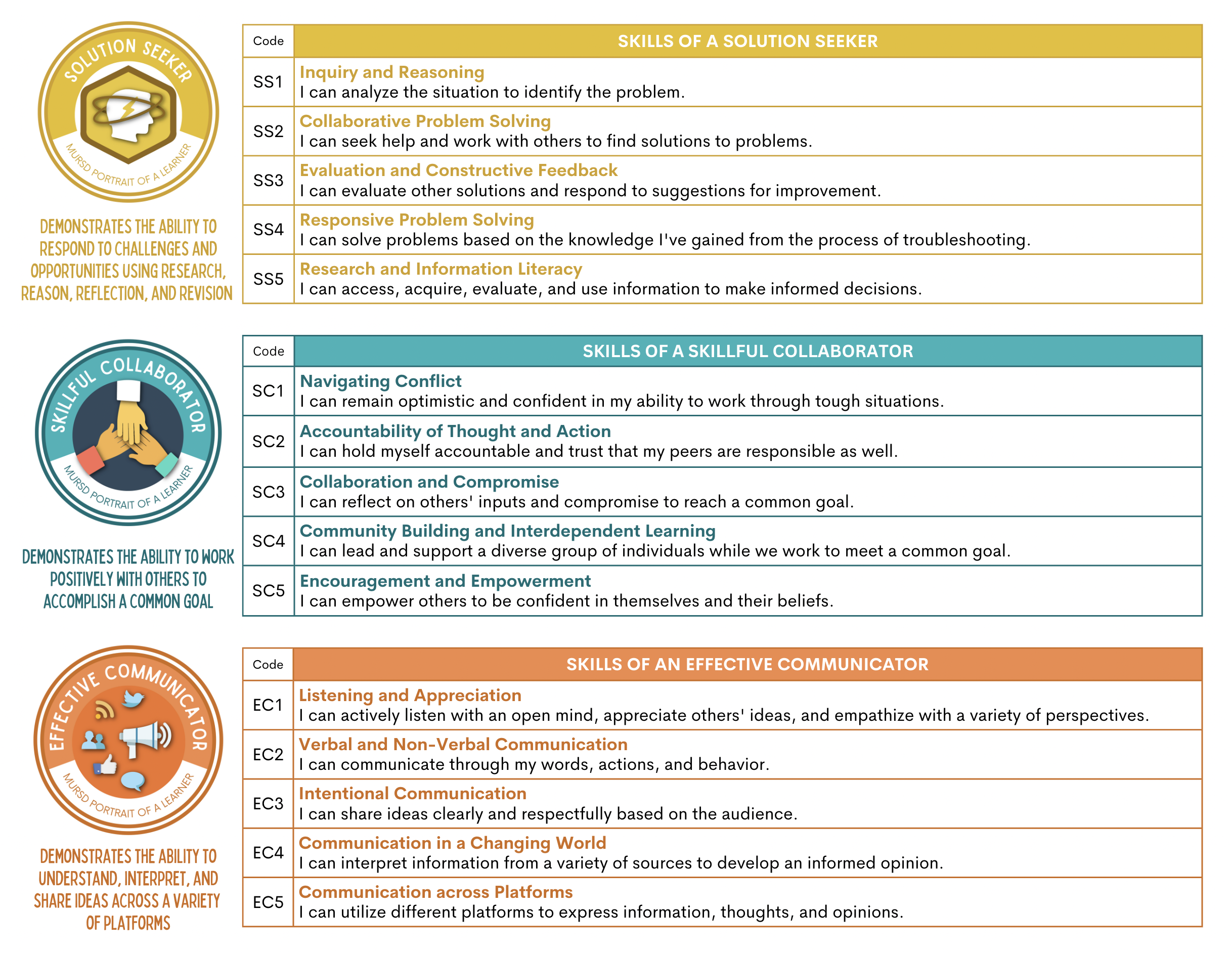 Portrait of a Learner Scholars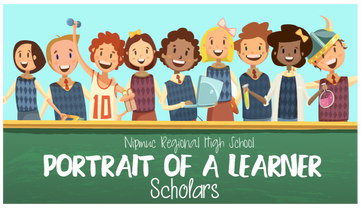 The MURSD Portrait of a Learner (PoL) identifies the skills, knowledge, and dispositions that our students need to be successful in the modern world. Through the Portrait of a Learner students have the chance to explore what it means to be a mindful learner, global citizen, effective communicator, skillful collaborator, solution seeker, and inspired innovator.

In fall 2018, Nipmuc launched the Portrait of a Learner Scholars Program in which a group of 32 students across all grades volunteered to explore the six PoL skills, become experts in this foundation of learning in our district, and develop digital profiles that celebrated their curiosities, interests, and unique stories of learning.

In 2021, Nipmuc established the second class of PoL Scholars in which 47 students created profiles that articulate their personal narratives and tap into their unique passions, interests, and curiosities. We invite you to enjoy our students' profiles. We know you will be impressed and inspired by their journey of learning and the opportunities that await them in the future!
If you are looking to learn more about our journey with the Portrait of a Learner, please check out our following webpage with more details.