Due to some icy road conditions, there will be a 2-hr delay in the MURSD, today, 2/6/20. Be safe and give yourself extra time!

There will be no school today, Tuesday, 12/17 in the MURSD due to the timing of the storm and the expected icy road conditions. Today will also be an ASL Day- so students should consult Google Classroom for assignments or their sent home assignments.

Two hour delay in the MURSD today, 12/11. No morning pre-K. Drive safely out there!

Want to learn more about the MURSD's facility needs and budgetary planning to meet them? Attend tonight's MURSD Budget Subcommittee meeting- 7:00 pm in Room 224 of Miscoe Hill MS.

No school in the MURSD today, Tuesday, 12/3 due to the timing of the storm and current road conditions. Take care!

2-hr delay in the MURSD tomorrow, 12/3 due to this two-part winter storm. Will reassess in the AM, and if a cancellation is warranted, I will let you know by 7 am. Stay safe and warm!

No school in the MURSD today, 12/2, due to the storm and potential change to sleet/snow in the PM

2 hr. delay in the MURSD tomorrow, 12/2.... Will reassess in the AM for a potential cancellation if needed

MURSD Budget Meeting on Nipmuc & Miscoe Athletics- Tuesday, 10/29 at 7:00 pm in the Miscoe Auditorium. Please come and learn about our vision, strengths, and needs!

Please join us in congratulating Miscoe Hill Middle School art teacher Alice Gentili for being the recipient of the 2019 Distinguished Media Arts Educator Advocacy Award! Click here to learn more about this prestigious honor:
https://tinyurl.com/2019-Distinguished-Media-Arts


The MURSD is proud to announce that 7th/8th grade art educator, Jon Hansen, has been named the MA 2020 Middle Level Art Educator of the Year! Congratulations Mr. Hansen. Our students are fortunate to have such a talented, dedicated, and inspired art educator at #Miscoe! #mursd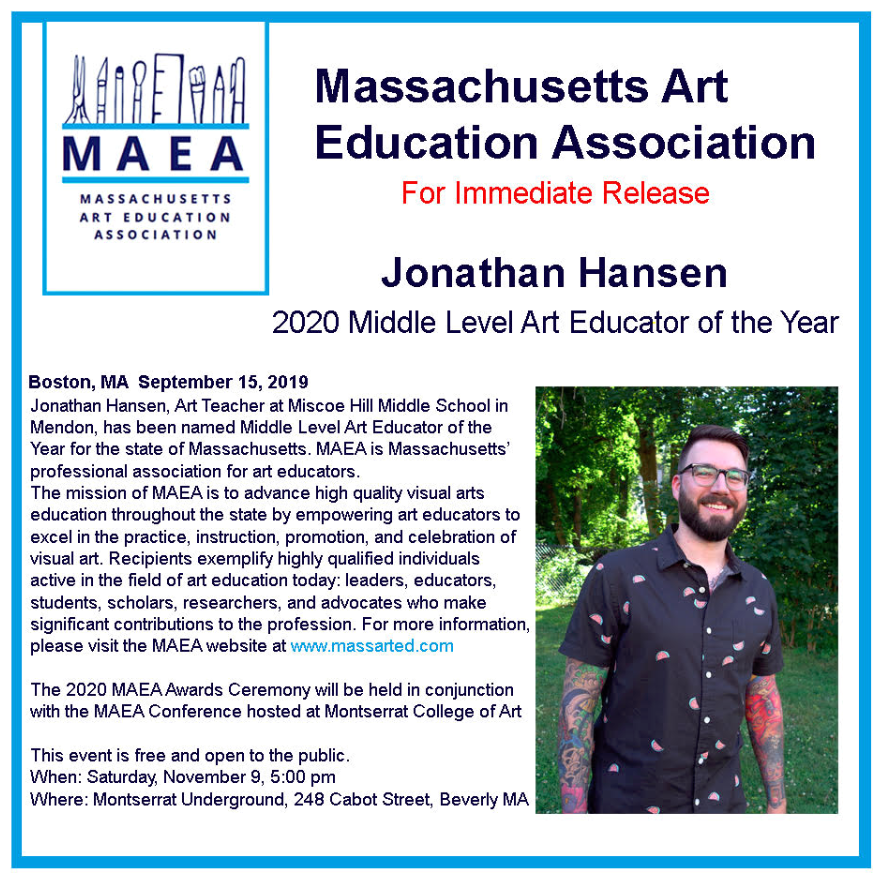 TheTriple E Virus threat has been designated as critical status in Mendon & Upton by the MA Dept of Health. Out of an abundance of caution, until further notice there will be no district-sponsored outdoors activities after 6 pm.
Welcome to the new Mendon Upton district website! Please excuse our appearance as we bring this site online. Check back often for news, updates, and other information!